As well as Cafe et Calva, an album cooked up in the Cwtch Studio in Kent, Veronique and I collaborated on the following songs during the socially distanced plague year.
Absent minded – a song I wrote while attending Paola Vera and Pete Churchill's ISSR in 2019.
1665 – everyone's written a coronovirus song, so why shouldn't I?
The Covid Christmas Blues – an old song with new words,
Croissants de Soleil – first of a new selection of chansons.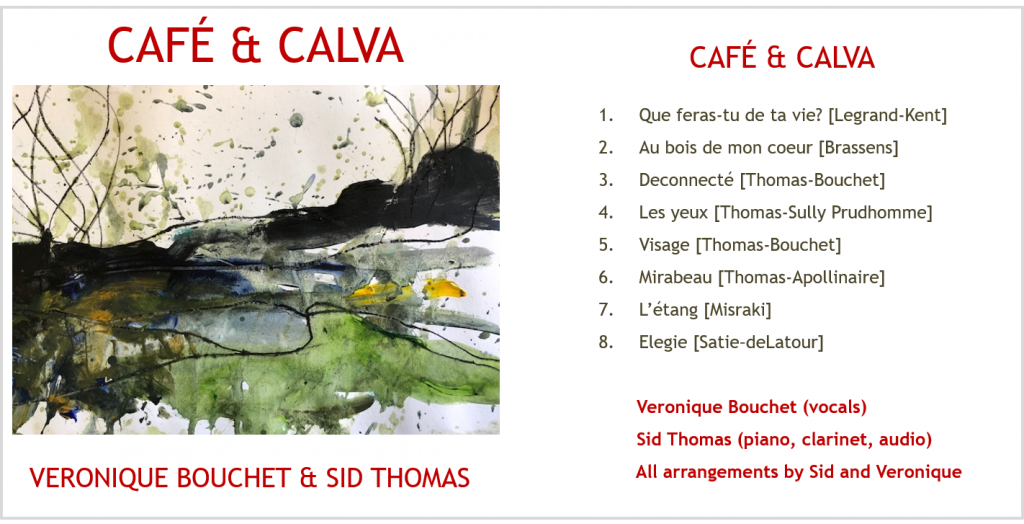 This is the new album by Veronique and Sid. As well as a few classics of the genre (Que feras-tu, L'étang, Au bois de mon coeur) there's a beautiful rarity by Erik Satie, not to mention settings of poems by Apollinaire and Sully Prudhomme, and two originals. During this project we've been privileged to receive advice from Anita Wardell and Tina May ('The Divas'). The finished album is available on Veronique's Soundcloud page.
The track list, lyrics and translations are here
And here's a YouTube video of one of the tracks: