Nance Wilson and Sid Thomas
Nance Wilson and Sid Thomas met at Nick Weldon's Jazz School UK and have been making noises together off and on ever since. Other musicians we've worked with include David Ward (guitar), Tony Bevan (drums, percussion), Michael Coughlin, and Andy Faulkner (bass).
After a hiatus, while Nance moved to Melbourne and thence to Queenstown NZ, we've resumed our collaboration as an inter-hemisphere project. Here are our latest tracks.
Innocenti – words set to a theme based on a composition by Ralph Towner. This performance was enthusiastically reviewed on the Creative Sauce YouTube channel.
Double rainbow – a beautiful Jobim number, giving Nance the opportunity to wrap her tonsils around the Portuguese lyrics.
Here's to life – a reflective song (by Butler and Molinari) in which Nance and I were joined by Andy Faulkner on bass.
Loss Aversion is our most recent collection:
We made two albums in 2018. Nance has posted several tracks on Soundcloud.
On a recent flying visit from NZ to the Cwtch, Nance sang John Ireland's setting of the famous John Masefield poem Sea Fever. I've reharmonized it for the piano accompaniment.
Our other album is The Country Side of Jazz: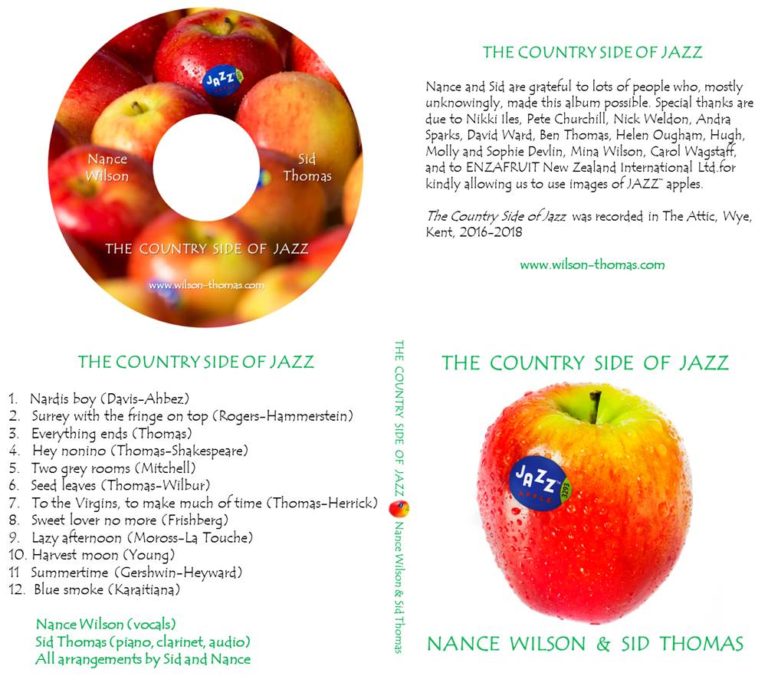 There's more Nance on her Soundcloud page and her Jazzicology blog (to which I've contributed a couple of postings). See News for current projects, performances, and downloads.